Sibs Day 2023 - SOLD OUT
Due to HIGH DEMAND for Sibs Day tickets (after a two year hiatus due to COVID-19), we are SOLD OUT of Sibs Day tickets as of 1/3/2023. We did add an additional 200 tickets in December and those have already sold as well. Unfortunately, we are unable to add anymore tickets due to capacity and safety issues that day.
Anyone can be a Sibs Day participant as long as they have a Georgia Tech student as a member of their group. The age range for this event is ages 7-18, but parents and family members can also join in the fun! Please note that no on-site registration will be available.
All participants must check in at this location to receive their schedule, basketball ticket, Sibs Day long-sleeve shirt, sling bag, nametag & lanyard, and a campus map. A liability waiver must be completed for each participant, including Georgia Tech students, siblings, and other family members.  While you are waiting for the opening session, get your picture taken with the Ramblin' Wreck!
Upon completing the registration process, you will receive a confirmation email. Please remember what email you used to register as that is the email that will receive a confirmation email a week prior to Sibs Day and will include more information about the day. If you do not receive this email, please email parents@gatech.edu or call 404-385-1396.
Registration Fee
Cost: $55 per person
Youth (ages 7-18), GT student, and parent/family members (everyone must pay $55 to attend)
Your Sibs Day Registration Fee includes:
Brunch in North Avenue Dining Hall
Campus Tours
Educational Sessions
Ticket to GT Men's Basketball vs. Florida Tech at 2:00 P.M. at McCamish Pavilion
Catered Dinner at Exhibition Hall
Fun Activities (including bowling, billiards, a community service project, and a movie)
2023 Sibs Day Long Sleeve T-shirt
Sibs Day Clear Drawstring GT Bag
Tickets for events will be included in a registration packet distributed upon arrival at check-in.
Refund policy: Please note that we are unable to provide refunds for any reason.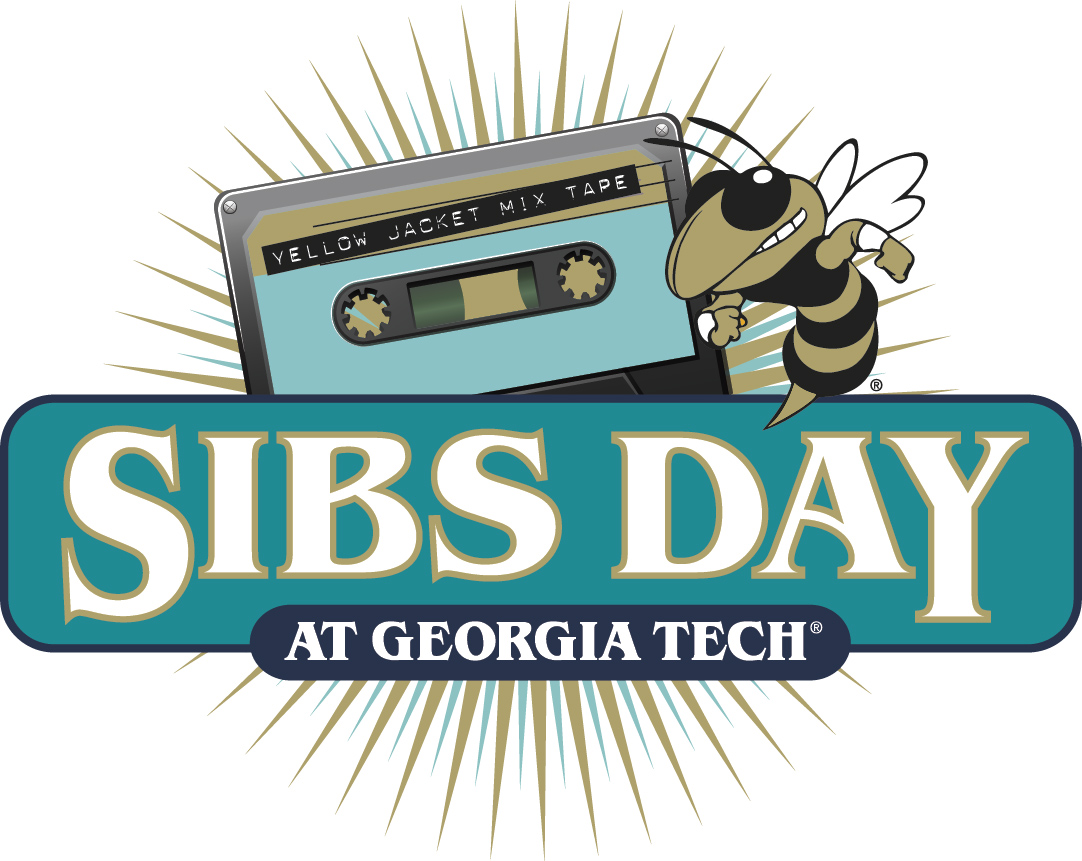 Sibs Day Long Sleeve Shirt Image
Long sleeve shirts are included with the Sibs Day registration fee
Youth Sizes - Small, Medium, Large, and X-Large
Adult Sizes - X-Small, Small, Medium, Large, X-Large, XX-Large, XXX- Large
Sibs Day 2023 Schedule-at-a-Glance
Our Sibs Day 2023 is Back to the '80s! So get ready to play that mixtape, put on your neon shades, and have some fun as we blast to the past!
8 - 9 a.m. - Check-in at Smithgall Student Services Building (353 Ferst Drive NW, Atlanta, GA)
9:30 - 11:15 a.m. - Campus Tours (Rotating with Brunch)
9:30 - 11:15 a.m. - Brunch in North Ave. (Rotating with Campus Tours)
11:30 a.m. - 1:30 p.m. - Educational Sessions (No pre-registration needed for these sessions)
2- 4 p.m. GT Men's Basketball Game vs. Florida Tech  in McCamish Pavilion
5:00 - 6:30  p.m. - Dinner in Exhibition Hall
6:00 - 9:00 p.m. - Bowling, Billiards, Games, Movies, and Snacks in the John Lewis Student Center
8:30 - 9:30 p.m. - Pick-up/Check-out: John Lewis Student Center - Tech Rec
Sibs Day 2023 Final Schedule